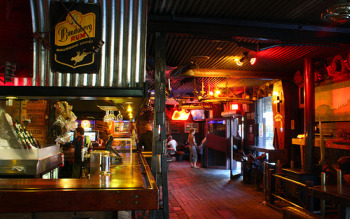 In the town of Alice Springs in the red centre of Australia, backpackers and travellers on their way to visit Uluru will almost certainly end up at this curious bar.
Walk through the closely guarded saloon doors and you'll be amazed at what you see – boots hanging from the ceilings, snakes in tanks, and a coffin with a suit of armour inside which says 'How Much To Touch Ned's Nuts?' Pull out some peanuts and throw the shells on the floor, because at Bo's anything goes.
Sounds like a quirky bar already, but wait – it gets better. If you go to the bathroom you might get a little surprise, for when you come to wash your hands, each tap turns on the water in a different sink!